Hyundai Sonata Owners Manual
Hyundai Sonata Owners Manual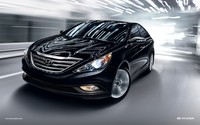 The Hyundai Sonata is a comfortable and likable midsize sedan that proves Hyundai can build cars that are not just easy on the pocketbook, but also easy to live with as well. Like most vehicles in the midsize sedan class, the Sonata offers front-wheel drive, numerous safety features and a choice of trim levels that include sporty and plush variants. Setting the Sonata apart, however, is Hyundai's lower pricing and outstanding warranty coverage.
For the most part, the Sonata has kept getting better. The current model, in particular, is not only a fully competitive choice for a family sedan, but a standout among its peers. In addition to the strong value proposition, it adds a few things previously not seen in this conservative nameplate -- namely, daring styling and sporty driving dynamics. Newer pre-owned Sonatas are also a solid choice, but models prior to 2006 remain a risky used-car proposition.
---










© 2023 www.hyundaisonatamanual.com. All Rights Reserved.